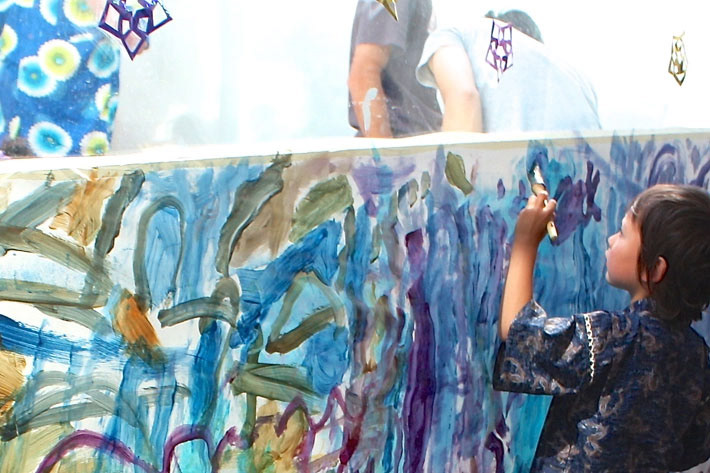 We had a lovely time at Tanabata-kai – Star festival  in Amsterdam organized by KyokoKinderKunstklas and Soona last Sunday.
We hosted 
"Star Crown Making" and "Milkyway Painting" Workshops. Atelier Chika Ito prepared Handmade eco inks for both workshops, using 
the inks made from Red Cabagge (Blue),  Blueberry (Purple), Red Beet (Red), Turmeric and Yellow Ochre natural pigment (Ochre Yellow), Food Coloring (Blue), Red Cabbage + Yellow Ochre pigment (Green), Gold and Silver synthetic pigment (Gold and Silver).
The colors itself were very beautiful, but the children spontaneously combined these colors and created an amazing color mix during the Milkyway Painting workshop. The children stamped and painted the entire canvas using their newly made colors!
Last but not least, we would like to thank Kyoko Inatome for giving us such a wonderful time! If you are interested in Kyoko's Kids Art Class, take a look at her 

website. 
For more photos during the event Tanabata-kai, please check
here
.
先週の日曜日、Flatto81はKyokoKinderKunstKlas+Soonaによる七夕会ですてきな時間をすごしてきました。前回のポストでも書きましたように、私たちは、星の王冠づくりと、天の河のペインティングを担当しました。インクはAtelier Chika Ito による手づくりのエコインクを使用しました。
今回インクの色の材料は、紫キャベツ(青)、ブルーベリー(紫)、赤ビーツ(赤)、ターメリックとイエローオーカーの天然顔料(黄色)、食紅(青)、紫キャベツ+イエローオーカーの天然顔料(緑)、さらに金、銀の合成顔料(金、銀)。。。これらの色自体とてもきれいだったのですが、特に天の河のペイントでは子どもたちがそれぞれ好きにまぜて、より彩り豊かな色が誕生しました。そしてじぶんでまぜた色で思いっきりスタンプしたり、ペイントしてくれました。
最後に、こんなすてきな会に参加させてくださったKyokoさん、どうもありがとうございます☆ Kyoko Inatomeさんのクリエイティブなキッズアートレッスンに興味のある方はぜひ KyokoKinderKunstKlas をチェックしてくださいね。七夕会の他の写真を見たい方はこちらをご覧ください。
Photography © Fumiko, Henry, Naomi, Emi and Soona
​​​​​​​
All images in this blog entry have been published with the explicit permission of the parents of the depicted children. Images may not be used without permission. If you would like to link the images on blogs, articles, etc, please contact us.
当ブログに掲載されている画像等の無断転載はご遠慮ください。画像は全て該当するお子様のご両親から許諾を得て掲載しております。ご利用されたい場合はこちらからご連絡ください。